Posted: 2016.03.31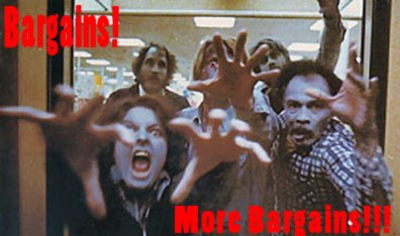 Shoppers are thinking people, not mindless zombies! Keep the HUMANITY in your market research.


Ok, Black Friday aside, people are not crazed, mindless creatures when you think about it. They consider, just like you consider. They weigh pros and cons, and make what they believe is an informed purchase.
Similar to the AMC phenomenon "The Walking Dead," staying alive in today's business world mean embracing your humanity...and leveraging it.
"Customers are NOT the Walking Dead"
- At retail, they either already have a preference, or try something new to them, based on subjective opinions.
- Out to eat, they have a huge amount of options, but decide what they want most based on subjective criteria.
- Out on the town at sporting events, concerts, or bars, they decide while in the experience whether they will come back.
So, why are marketers fixated on turning people into data-points, assuming that with the right combo of analysis and luck they can drive repeat business?
Remember that your shoppers are people like you, not algorithms and demographic profiles. They deserve to be listened to and learned from. But how? Mobile location-tracking is seen as intrusive and online panels are skewed to only those with major grievance or major praise. So how do you get to the truth?
We put the PERSON in your market research!

At CIS, we have spent the past decade building the largest network of vetted, trusted intercept facilitators across all 50 US states and Canada.
Our proprietary technology on our huge fleet of tablets lets us ask ANY question, to ANY patron, in ANY language, in ANY media, ANYWHERE. We even provide same-day dashboards and drill-down reports to give you timely insight from your customers' point-of-experience.
Click here to find out how CIS puts the PERSON back into market research.