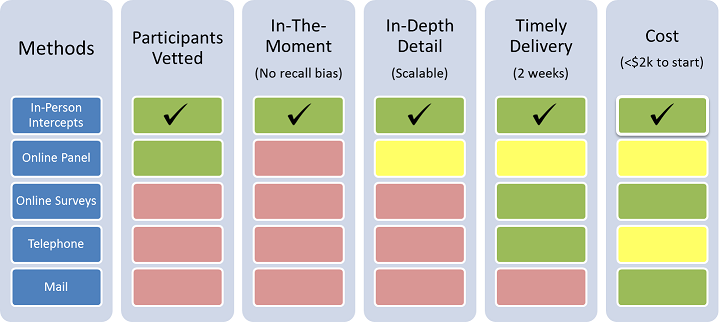 3 Key Benefits of In-Person, On-site Surveys ("Intercepts")
1. REACH ALL DEMOGRAPHICS:
Intercepts target all visitors equally, without invasive mobile tracking or biased, opt-in online panels.
2. ELIMINATE RECALL ERRORS:
Intercepts take place DURING THE EXPERIENCE, providing more authentic reactions.
3. BUILD YOUR BRAND, PERSONALLY:
Intercepts happen in the REAL world, with REAL people. This provides a genuine, brand-building engagement.

In-person engagement offers a unique experience to your audience: being heard!
Go beyond biased on-line panels and intrusive mobile data collection!