Building Sustainable Customer Loyalty
Posted: 10.06.2017
Welcome to this month's blog!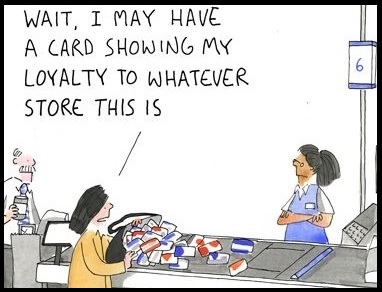 When you enter a retailer, is your first stop to download their app? Didn't think so.
Last year, I read an article describing how "Shoppers Are Downloading More Mobile Retail Apps." It referenced a year-over-year study from comScore showing an increase in persons with more than 1 app on their phone (74% to 77%). Clearly, "overall, mcommerce is rapidly growing."
But that's not the whole story.
Like so many things these days, one has to look beyond the "spin" to find the insight: "Does that mean retailers should develop apps in order to be viable in today's evolving marketplace?" The article won't tell you.
Like most spun articles, the reader is left to reading the "writing on the wall." And many do! But blindly following inferences is where the trouble lies, and now, we're living the nightmare.
Last month, a new article from Greg Zakowicz at Oracle + Bronto pretty well summed up the current state of affairs: "a failed masterpiece." In the real world, the hassle of downloading a retailer-specific app - and wading through the opt-in-data-collection screens - outweighs the value for most shoppers.
So what's the result? Currently, only 8% of shoppers use RETAILER apps. Moreover, shoppers are mostly using those apps to price-shop. Not exactly a "loyalty play."
Let me say that again: 92% of brick-and-mortar customers DO NOT use retailer apps when in store, and when they do, they use it to compare prices with competition.
Loyalty-beyond-price does not come from apps, personalized emails, or any other marketing tactic. It begins and ends with something real: the CUSTOMER EXPERIENCE:
-Are they just "satisfied" or are they "delighted?"
-What was the experience that led to the "delight?"
-How is that experience duplicate-able across all locations, for the majority of customers?
The aspect of EXPERIENCE gets a lot of lip-service these days, but more and more consumers are learning the value of being GENUINE, and they're voting with their feet.
--
We deliver THE BEST insight on consumers, because our sample comes from GENUINE consumers when they are IN-THE-MOMENT of their experience!
Contact us today to get started connecting with your REAL-WORLD customers!