Beyond Sterile Focus Groups
Custom Intercept Solutions - Your Market Research Experts
When it comes to consumer research, Custom Intercept Solutions takes you to the point of experience - while they are making decisions in the REAL WORLD!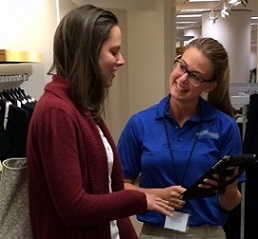 Understanding a shopper's motives at this crucial point is the very best way to inform your marketing strategies. This is market research that you can trust, supported by consumers' in-person feedback. We provide you with detailed data and analysis that gives you a strategic advantage over the competition. Know what your customers want, when they want it, and what keeps them coming back to you.
Beyond the Focus Group
The emphasis on the 'moment of truth' in a shopper's experience is invaluable in terms of consumer research. Our survey hardware allows you to go beyond the 'group think' prevalent in focus group environments and speak to people as they are interacting with your brand - on their own terms. This onsite approach re-connects your brand with your customers and allows them to actively and anonymously give feedback regarding their experience.
Recreating a real-time feel to the shopping experience allows us to understand what drives a consumer to purchase in unrivalled depth. We can pass this information on to you to give you the edge that you need in the industry. A focus group is easily corrupted, and cannot really recreate a real life scenario. Move past it, and see the difference.
Understand Your Market
When you gather information at the point of experience, you'll stay ahead of the game - and ahead of your competition. You'll be able to anticipate the needs of your customers and capitalize on trends that other research methods routinely miss. If you don't know your customer, what they want, and why they want it, then you will be traveling blind. Get the edge that you need by trusting our analysis, and using the data that we provide to your advantage.
Trust the Experts
To truly harness the power that in-store surveys can bring to your business, you need to ensure that they are administered by qualified experts who can act as your brand ambassadors. You can trust the team at Custom Intercept Solutions to provide experienced, professional interceptors with marketing backgrounds. Here are some features of our service:
Our surveys are supported by cutting-edge technology.
We offer fully customizable surveys with relevant and targeted questions.
Our speed-to-market is unmatched: We can be anywhere in the US in 2 weeks.
Our expert interceptors can offer surveys in over 100 languages that can switch on-the-fly.
Custom Intercept Solutions specializes in providing valuable IN-THE-MOMENT information to businesses looking to gain an edge over your competition.